5 years ago
67% of US and Canadian universities are now mobile-friendly
Prospective students worldwide are increasingly using their mobile phone to look up information about their study choices.
We know that over the past four years, mobile has overtaken desktop as the most-used digital platform in the US, and thatsmartphone usage is up 394% in the US.
This trend is even more pronounced among millennials, who expect every website they visit to be mobile friendly, and that, of course, includes university websites. On StudyPortals' websites, nearly 30% of our visitors already come from mobile devices and increasing fast.
Even though study choice is often seen as a desktop research activity, the analytics reveal that browsing for this kind of life-changing decision is occurring more and more frequently on mobile devices.
StudyPortals latest research in cooperation with the British Council had a look at the world's top 1,000 universities in order to understand how well these universities meet the communication needs of prospective international students.
The report, focusing on the Top 500 Universities in the US and Canada, was first published end of May 2015 during the annual NAFSA conference in Boston.
The main findings:
The top 500 US and Canadian universities are increasingly mobile-friendly and passed the Google mobile friendliness test, but one in three university websites is still not responsive.
What is the impact of a non-responsive university website?
When searching for a new study programme online, Google will favourite universities that have a mobile-friendly website over ones that don't, and that means some universities may be harshly penalized in terms of mobile search results.
The full report is available here.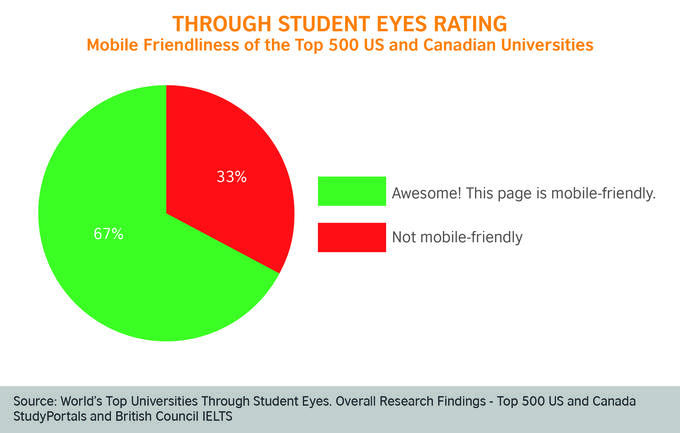 For more updates, follow us!